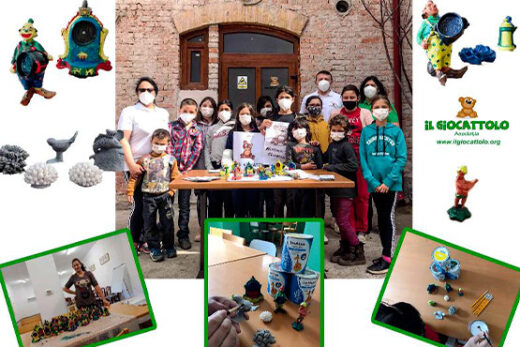 New Day-Care Children House (we are inspired by the houses of Maria Montessori and Don Bosco).
Project for Anina - Education and Training to prevent disadvantage and criminality, also by providing work for disadvantaged families.
The main purpose of the project is to promote and support the right of children to grow up in a welcoming environment and to be fully integrated into the local community. Roma children are often at a disadvantage compared to their peers due to extremely precarious living conditions and different cultural (knowledge/behavioural) patterns. In the last year, the day center created by the Association has successfully carried out socio-educational, recreational and sports support activities. The project intends to intensify and structure the empowerment efforts of families and educators, involving mothers in the production of articles made through artisan workshops. The Covid has destroyed the possibility of habitual menial jobs.
The project aims to involve 40 children and at least 10 mothers of Roma ethnicity. It is therefore mainly (but not exclusively) targeted at the Roma community which lives in a state of extreme poverty and discrimination, with high illiteracy rates.
During the restoration of the building the Association tried and adopted solutions that allowed to combine the need to preserv the historical heritage with the huge potential of the area, involving and giving work to the local population . Children will feel welcomed and will have to learn rules and respect.
Artesanal labs aim to use new creative techniques in order to give new life to raw materials and semifinished products from rotten stocks.
Socio-economic conditions of the Rom community are considerably worse than those of the rest of the population. We consider that approaching to themes which have a transnational relevance, such as integration, could lead to important results if pursued in its diverse components (education, awareness raising, parenthood support, small enterprises).
The project has been initially supported by the German association Renovabis and by friends. Future activities will be funded through the selling on the market of the products handcrafted by the Rom mums. At the moment we are working on the production of resin statuettes while in the future further materials will be provided for new artesanal products. This business model gives many funding opportunities, that are effective and easily pursued also through communication, a field in which we are quite skilled.