On February 25th we make a proposal to everyone in this Group, to make an intervention in the small village of Bradet (685 a.s.l.), on the south-west of Romania, better known as the poorest and the most abandoned village of the Country. About 400 people, with many children, left without work for the closure of the nearby coal mine. The intervention was addressed to the school/kindergarten in a total state of abandonment (the building had broken windows and broken doors, had no bathrooms (!), a very old electrical system with bare wires, a dangerous heating system, no support for teachers).  Gallery.
The reasons for starting a new project have been:
a) It's useless think of being able to change situations / mentality, if not starting from school education;
b) as children growing up in degraded environments, it is very difficult to expect balanced adults, able to face life's problems;
c) it must be taught that help does not come from above, but that we must work to improve our status.
Method:
1) People from the village worked coordinated by Sorin, aa site manager (it's a way to give work and to teach, without giving anything free);
2) commitment of the whole village to clean up, according to instructions, the shameful garbage scattered everywhere (environmental teaching, through a small edition of "let's clean the world");
3) precise agreements of the above, with the local Municipality, which has collaborated.
In a few months of work in the summer of 2009, the school was totally transformed. It is now equipped with: laminate floors - internal bathrooms with tiles, with hot running water - PVC windows - all remedied and whitewashed walls - electrical system in accordance with standards - n. 15 new stoves - new entrance door - furniture and equipment. In 2010 the first floor was also renovated where a beautiful kitchen, a fully equipped cinema room and various accommodation rooms (with bathrooms) were set up. The roof was redone, first in Eternit, with an intervention (probably the first in the area) with attention to asbestos pollution.
| | |
| --- | --- |
| Scuola nel dicembre 2008  | Scuola oggi  |
Currently the school can be called one of the most beautiful, and gifted, in the region. Newspapers and televisions have done extensive reports on the "Brădet miracle" (Press section about us).
This happy experience has shown the intelligence of this type of charity, which achieves three results:
a) not to give money but to give work;
b) people learn a trade;
c) people build useful things for the community.
Il Giocattolo Association has won the 2nd Prize (out of eighty projects) in a National competition for the project "A new school for Bradet"; the novelty of an intervention that saw the active participation of the population in the renovation of the building was appreciated. The prize, symbolic but with useful visibility, was collected at the gala evening in Bucharest with the presence of the Prime Minister Dacian Cioloș.
Here the documentation of th award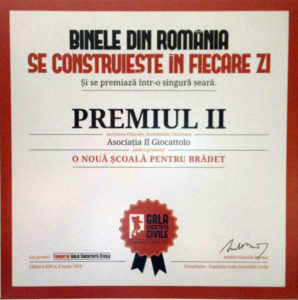 Subsequently our activity turned mainly (in Bradet and Anina) to what is indicated in the respective pages of the Activity Menu: School Dropout, Social Assistance and Past activities